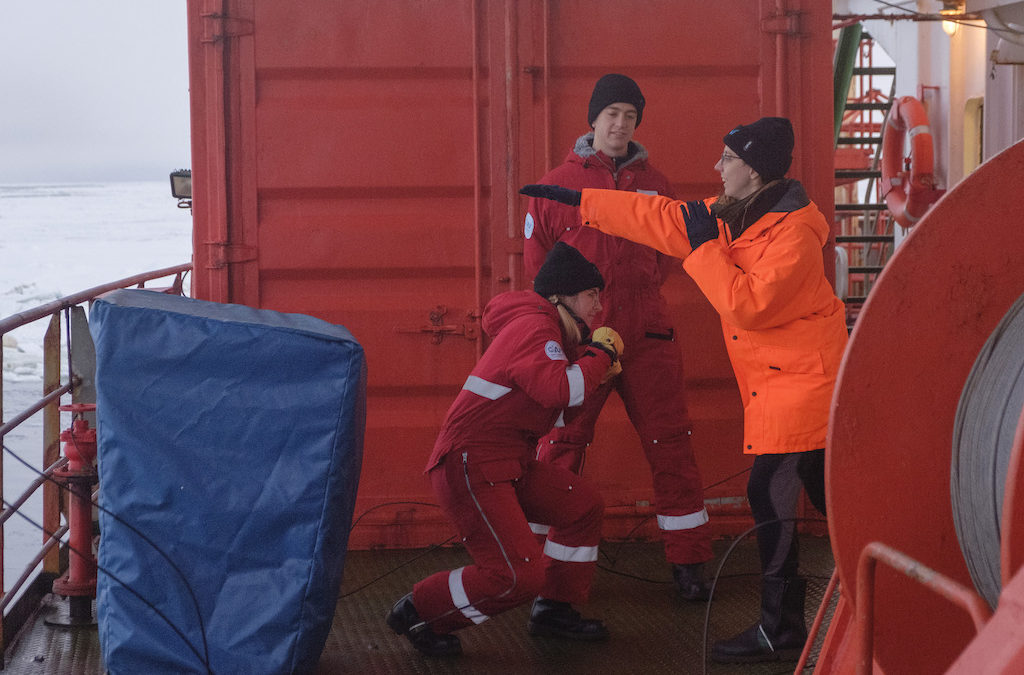 Life aboard the RV Akademik Fedorov
Week 2 of the MOSAiC School 2019 brought with it our first week living on the Akademik Fedorov. While quite different than our everyday lives, everyone seemed to adapt to boat life in just the first couple days. Keeping busy was a crucial component of this. Between morning and evening lectures, group meetings, and evening social activities, our minds are too preoccupied to think about life back on land.
Our lecture topics have ranged from atmosphere-sea ice interactions, ocean circulation and stratification, sea ice micro and macro physics, and Arctic ecosystems, all presented by experts in these respective fields. Access to such amazing researchers from around the world is an experience we won't soon forget.
To stay healthy and keep fit, we've instituted cross-fit work outs on deck, yoga classes in our classroom, and even some self-defense classes. The views of sea ice and the cool fresh air have actually been quite motivating to partake in exercise more so than on land! The lack of internet has really promoted our reliance on each other, fostering copious amounts of sharing and teaching from our very diverse backgrounds.
Daily evening meetings from our science leader Thomas Krumpen keep us informed of the ship's activities, plans, and complex decision making. We've begun the process of dividing into working groups and meeting with science teams to see the equipment to be deployed and planning the setup procedures. Excitement for getting off the ship onto sea ice is at an all-time high!
Evenings have been our time to socialize, consisting of many game nights, a couple movie nights, even a bar night which happened to occur on the evening we came across our first sea ice followed by our first spotting of polar bears! Since then, we've continued North and have plunged deeper and deeper into the ice pack. We've even begun the search for our main ice floe to which the Polarstern will attach itself.